Who is a Candidate for Blepharoplasty?
The best candidates for eyelid surgery are physically healthy men and women. Most blepharoplasty candidates are 35 years old or older. Some younger patients can get this type of surgery if they have droopy and baggy eyelids, especially if it runs in the family.
Some medical conditions that may be too risky for blepharoplasty, include cardiovascular disease, diabetes, dry eye or lack of sufficient tears, glaucoma, and high blood pressure and thyroid problems.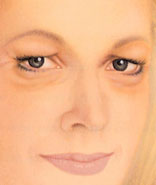 As people age, the eyelid skin stretches, muscles weaken, and fat accumulates around the eyes, causing "bags" above and below.
What are the Risks?
Like any other surgery, there are some risks involved with blepharoplasty in Portland. Possible minor complications can include a bad reaction to anesthesia, blurred vision, infection, swelling at the corner of the eyelids and slight asymmetry in healing. Occasionally, tiny whiteheads may appear after the stitches are removed.
Some Portland blepharoplasty patients have said that they had difficulty closing their eyes while trying to sleep. In rare cases, this condition, as well as ectropion which are a pulling down of the lower lids, can become permanent or require another surgery.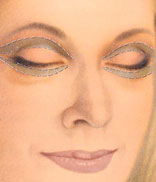 The surgeon closes the incisions with fine sutures, which will leave nearly invisible scars.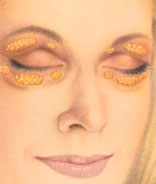 Before surgery, the surgeon marks the incision sites, following the natural lines and creases of the upper and lower eyelids.
Initial Consultation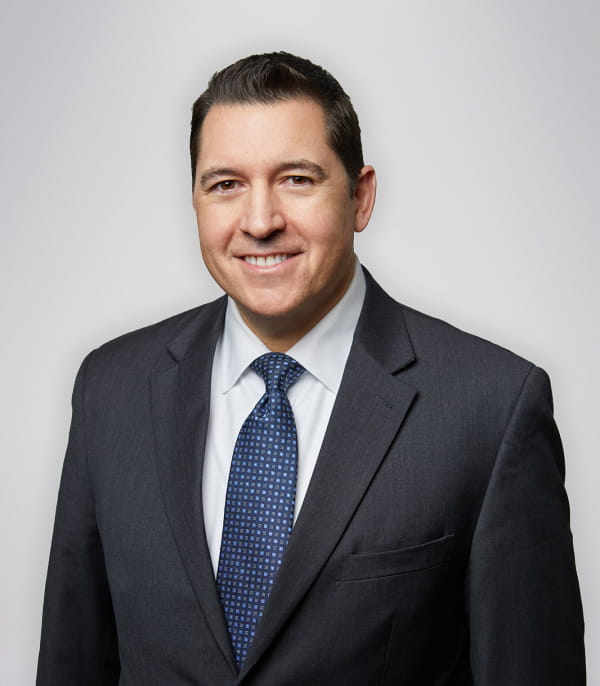 During your initial consultation, you will get a chance to express your goals for getting the procedure and your fears about it. Dr. Bartholomew will review your health and your medical history. He may test your vision and assess your tear production. Please bring the latest information from your ophthalmologist and any recent eye exam. Also, please bring any glasses or contact lenses that you wear on a regular basis.
The consultation allows you to go in detail what your goals are and what you expect from eyelid surgery. In your discussion with Dr. Bartholomew, make sure to cover whether you should get just one eye done, upper or lower ones, or all four eyelids. Will skin and fat be removed as part of the procedure?
Dr. Bartholomew will provide specific instructions on how to prepare for surgery. When should you stop eating prior to the surgery? If you are a smoker, when do you need to stop smoking prior to surgery? Should you continue with your regular medications? Follow these suggestions carefully and your surgery will go smoothly.
Also, make arrangements for a family member or a friend to drive you home after your eye lift in Portland.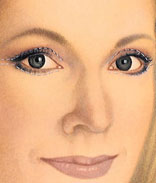 Underlying fat, along with excess skin and muscle, can be removed during the operation.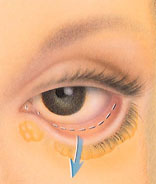 In a transconjunctival blepharoplasty, a tiny incision is made inside the lower eyelid and fat is removed with fine forceps. No skin is removed, and the incision is closed with dissolving sutures.
Blepharoplasty Procedure
How long does blepharoplasty take? Up to three hours, depending on the extent of the surgery.
If you have decided to have surgery on all four eyelids, Dr. Bartholomew will probably start with the upper lids first. He will make incisions following the natural lines of your eyelids from the creases of your upper lids to below the lashes in the lower lids. Sometimes, the incisions can extend into the crow's feet at the outer corners of your eyes.
Dr. Bartholomew separates the skin from the underlying fatty tissue to extract excess fat and trims sagging skin and muscle. Finally, he closes the incisions with fine sutures.
There is a chance Dr. Bartholomew may lubricate your eyes with ointment and apply a bandage.
A transconjunctival blepharoplasty deals with fat beneath your lower eyelids that don't need any skin removed. In this case, the incision is made inside your lower eyelid. This way, there is no visible scar. A transconjunctival blepharoplasty is usually reserved for younger patients with thicker and more elastic skin.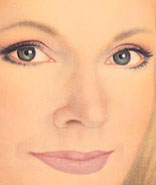 After surgery, the upper eyelids no longer droop and the skin under the eyes is smooth and firm.
Blepharoplasty Recovery
You can expect to have some discomfort and your eyelids to feel tight. Dr. Bartholomew can prescribe medication for pain relief. If the pain gets too severe, do not hesitate to contact our office immediately.
You will likely need to keep your head elevated for a few days and use cold compresses to minimize swelling. Everyone reacts differently to bruising. It usually lasts between two to four weeks. After your stitches are removed, two to seven days after surgery, the swelling and discoloration around your eyes should gradually subside.
You will get instructions on how to clean your eyes, which will feel gummy for a week or so. Eye drops may be recommended because your eyelids will likely feel dry and your eyes may burn or itch. Excessive tearing and sensitivity to light will likely affect you for a few weeks. You may also experience blurring or double vision as part of a temporary change in your eyesight.
Dr. Bartholomew will keep an "eye" on you for a couple of weeks to make sure everything is going well. After a couple of days, it should be fine for our Portland blepharoplasty patients to read a book or watch their favorite show.
You won't be able to wear contact lenses for two weeks and expect them to feel uncomfortable for a few weeks.
You should be able to return to work after a week depending on your healing process. Be aware you'll probably still be sensitive to sunlight and wind for a few weeks. Wear sunglasses and sunblock to protect your eyelids.
Activities should be kept to a minimum for five days and avoid any activity that raises your blood pressure. Strenuous activities should be put on hold for three weeks. Avoid alcohol for a while because it causes fluid retention.
Your scars will remain pinkish for at least six months and eventually fade to a thin white line. It should be almost invisible to the naked eye.
Blepharoplasty in Portland will bring a new vision into your life, including a more youthful appearance.